Discussion about VR and the film industry, 10 October
AVRAR and the Creative Europe Office co-orgranized the international discussion about VR and the film industry.
10.10.2017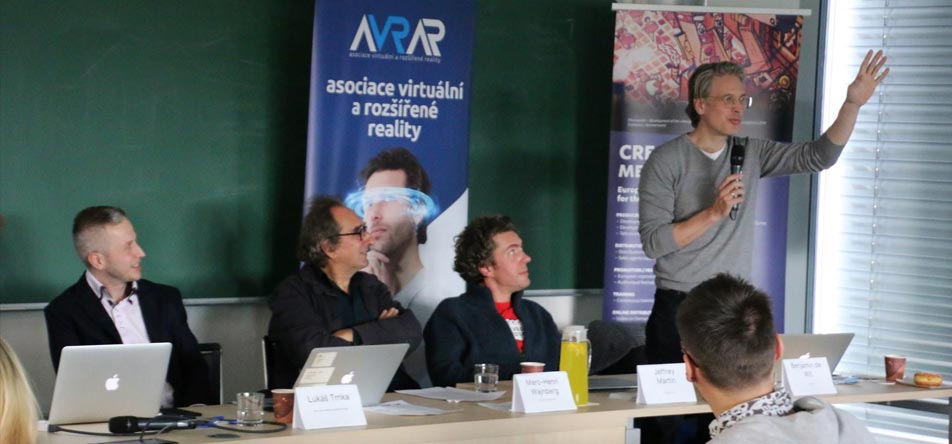 10 October 2017 Association for Virtual and Augmented Reality (AVRAR) and the Creative Europe Office co-orgranized the international discussion about virtual reality and the film industry with international VR experts.
The host Lukáš Trnka, marketing director of the association, introduced three extraordinary foreign guests: world renowned director Mark-Henri Wajnberg from Belgium, author of the world's largest 360° photograph, Jeffrey Martin from USA the founder and director of VR Days festival Benjamin de Wit from Netherlands. He presented the goals and achievements of the association to the guests and they introduced their work.
They were truly special guests:
Marc-Henri Wajnberg (Belgium)
VR and film production
Director and founder of WAJNBROSSE PRODUCTIONS
Scriptwriter, director, comedian and producer, Marc-Henri Wajnberg runs WAJNBROSSE PRODUCTIONS since 1983. He produced 2800 shorts, about fifty documentaries and feature films. His productions won more than 70 awards around the world. He produced the Lars Von Trier film "The Five Obstructions" and directed the full-length feature film "KINSHASA KIDS » (more than 60 festivals and 8 international prizes). Nowadays, he develops a serious game fiction in Kinshasa. This immersive experience in VR 360°, with interactive choices, real actors and real sets will be a world premiere.
Jeffrey Martin (USA)
Guinness world record for the world's largest 360° Photo
Founder of 360°cities.net
Jeffrey Martin has lived in Prague since 1999. He has been involved in 360° and Virtual Reality Photography since 2005. He is a Guinness World Recorder holder for creating the world's largest 360° Photo (London 320 gigapixels, 2012). He has founded 360cities.net in 2007, which is one of the world's leading portals for high-quality 360° Photography, containing more than a quarter million high-resolution 360° photos from all over the world, by 10,000 contributing photographers. In 2014 Jeffrey founded Sphericam, after experimenting with 360° and VR video capture since 2008. Sphericam builds professional and industrial-grade 360° cameras for VR, Robotics, Machine Vision, and Smart City applications.
Benjamin de Wit (Netherlands)
Current VR trends and creative VR environment in Europe
Founder and CEO of www.VRdays.com
Benjamin de Wit is Founder and Festival Director of VR Days, Europe's leading creative professional VR/AR/MR event. De Wit was trained as an actor and worked with Ivo van Hove's Toneelgroep Amsterdam from 2001-2007. Since then, he has developed several businesses including, Spot On Agency, agency for actors and Studio Stomp, digital agency. Benjamin de Wit is the driving force behind The Classical Story, a multi-reality experience for classical music. He is also on the board of Norma, the Dutch neighbouring rights organization for musicians and actors.
And we've managed to negotiate a 30% discount for exhibitors at VR Days in Netherlands.
You can decide yourself whether the foreign guests were an inspiration for the czech community after watching a recording of the discussion (in English). Take a look, maybe you'll find it too.
Main partner of the event: